Science Cartoons - 1
I've been busy putting together a poster for
a student conference I'm attending next week in Winnipeg
, which has distracted me from just about everything else I had planned to accomplish. Not to worry, though, I'll be back on it in a day or two.
Anyhow, part of the fun this time around is that the poster competition includes criteria for judging that involve how pretty the poster is - so I decided to go all out and learn to draw with
inkscape
. Instead of the traditional background section on a poster, I went with a comic theme. It's a great way to use text and figures to get across complex topics very quickly. So, for the next couple days, I thought I'd post some of them, one at a time.
Here's the first, called "Second Generation Sequencing". It's my least favorite of the bunch, since the images feel somewhat sloppy, but it's not a bad try for a first pass. Yes, I do own the copyrights - and you do need to ask permission to re-use them.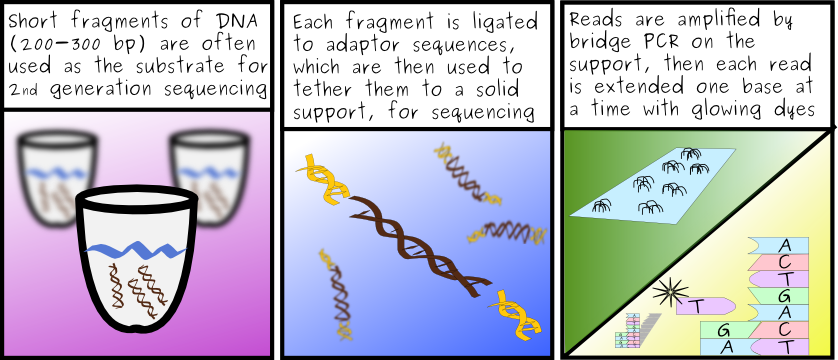 Labels: figures, FindPeaks, Open Source