5 Way Venn diagram, with Paths
I was looking for a way to clean up
my 5-way Venn diagrams
(aka, remove the spaces with zeros) when I discovered you can do some pretty amazing things in Inkscape once you convert your objects to paths.
Since I plan to use this as a figure, I've removed the relevant numbers, but left the shapes - I think it's pretty obvious right away how the relationships work, which isn't bad, considering it IS a 5-way venn diagram.
Pretty, isn't it?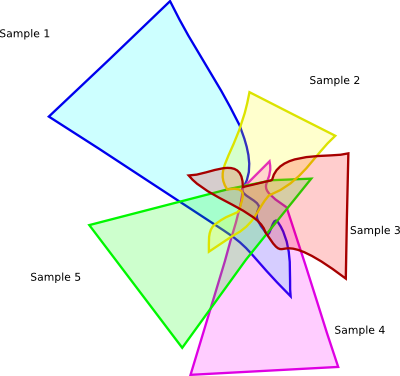 As I mentioned above, the image was made in
Inkscape
(available for windows/linux/mac). The software natively produces scalable vector graphics, which can be exported to png. Despite the complexity of the image, it really doesn't take long to do this, and Inkscape is pretty easy, once you get the hang of it.
Anyhow, while it's not immediately clear how to interpret the figure, it's still an interesting representation of data that would otherwise be totally impossible to interpret with the naked eye.
Labels: Venn Diagrams